Overview of national funds to support cinema and audiovisual sectors in 17 selected European countries 19 October 23 Jérôme Dheur
Cullen International has just published a new benchmark showing in 17 selected countries the total amount of aid (and per capita, see figure below) granted by national funds for the support of cinema and audiovisual sectors.
It indicates that Italy, Denmark, France and Norway are the countries with the highest spending per capita (i.e. the total amount of aid granted by national funds divided by the population in a given country).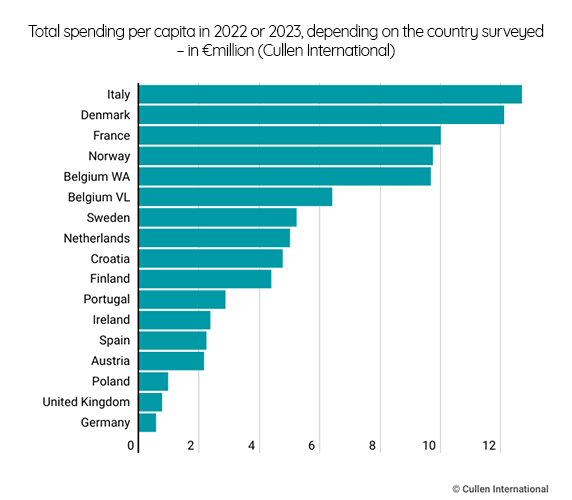 The benchmark also shows:
the share that industry levies imposed on audiovisual media service providers and distributors represent in the total amount of the aid (where levies are in place and where data is available);
the allocation of the fund per type of scheme (e.g. subsidies, tax credits, trainings, etc.);
examples of restrictions imposed on non-national companies to access the funding proposed by national film funds in international co-productions.
For more information and access to the benchmark, please click on "Access the full content" - or on "Request Access", in case you are not subscribed to our European Media service.