5G at different stages of development in sub-Saharan Africa 08 August 23 Elena Scaramuzzi
Some countries in sub-Saharan Africa are already implementing their plans on 5G, while others are yet to start considering the introduction of 5G networks and services.
Cullen International's new benchmark covers 20 countries in sub-Saharan Africa, of which several have recently decided to make available spectrum suitable for 5G deployments.
In some cases, the regulatory authorities assigned spectrum to mobile network operators (MNOs) for mobile services, typically in competitive procedures such as auctions or beauty contests.
In other cases, the authorities decided that spectrum already licensed to MNOs could be used also for 4G and 5G deployments, in accordance with a technology-neutral licensing approach.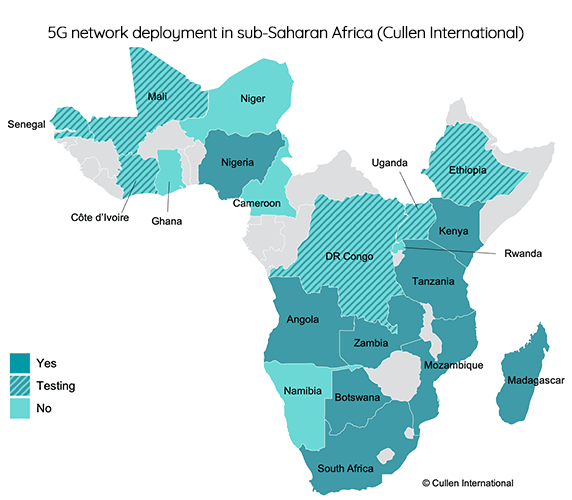 For each of the 20 countries, the benchmark :
analyses the national strategies and policies for 5G network deployment;
indicates where regulatory authorities have identified pioneer spectrum bands or made initial 5G spectrum assignments; and
provides relevant examples of 5G trials or commercial offers.
The benchmark covers: Angola, Botswana, Cameroon, Côte d'Ivoire, Democratic Republic of Congo (DRC), Ethiopia, Ghana, Kenya, Madagascar, Mali, Mozambique, Namibia, Niger, Nigeria, Rwanda, Senegal, South Africa, Tanzania, Uganda, and Zambia.
Stay in touch
Subscribe to our newsletter for a free weekly summary of the latest regulatory news and analysis from the communications world.