Latest internet of things and 5G developments in the MENA region 22 June 22 Ali Hayajneh & Muatasem Khairaddeen
Internet of things (IoT)
Regulators in five countries (Egypt, Jordan, Oman, Saudi Arabia, and United Arab Emirates) have established a specific regulatory framework for IoT. In other countries, there are often no specific rules applying to IoT services, which are subject only to the normal telecoms and spectrum licensing framework.
The permanent roaming of IoT devices is now subject to regulatory requirements in Egypt, while Oman requires that all resources used in an IoT system including SIM cards should be national. The provision of IoT services in both countries is subject to a licence, a permission, or an authorisation.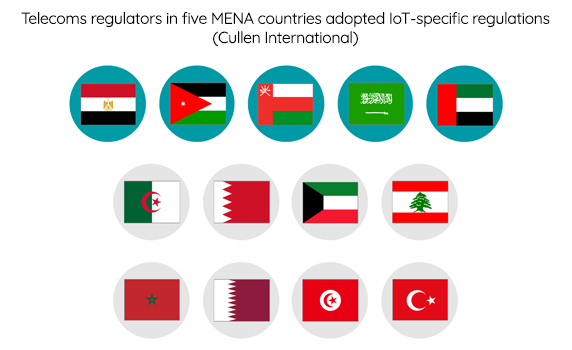 5G
Commercial 5G networks were launched in six MENA countries (Bahrain, Kuwait, Qatar, Oman, Saudi Arabia, and UAE), between 2018 and 2020.
Qatar requires mobile operators to rollout coverage for all mobile users with a 5G network capable of providing a minimum download speed of 100 Mbps by December 2024.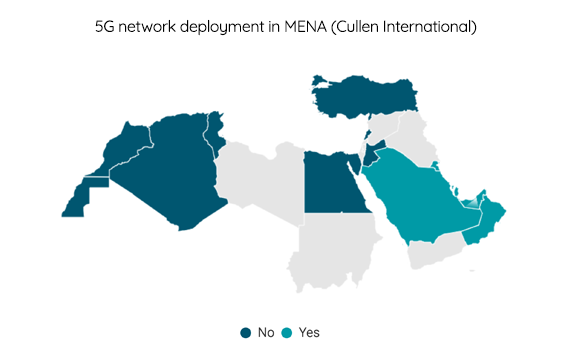 Find details on these and many other regulatory topics from 13 MENA countries in the latest update of our MENA Telecoms benchmarks!
Simply click on "Access the full content" - or on "Request Access", in case you are not subscribed to our MENA Telecoms service.
Stay in touch
Subscribe to our newsletter for a free weekly summary of the latest regulatory news and analysis from the communications world.