New benchmark shows the highest data protection fines on European telecoms operators 23 September 21 Sebastian-Dan Naste
Despite the harmonisation brought by the General Data Protection Regulation (GDPR) which came into effect in 2018, Cullen International's research shows that the level of fines for data protection infringements that have been imposed by national data protection authorities or other supervisory authorities against telecoms operators varies significantly across 15 European countries.
Italy has imposed the highest fine of €27.8m, followed by Spain and Germany.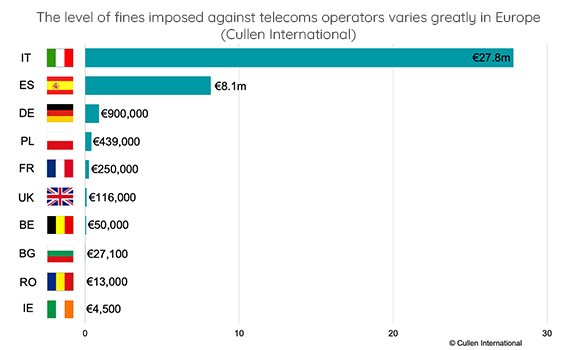 The benchmark covers the three highest fines imposed on telecoms operators in each of the surveyed countries for infringements of the GDPR or the e‑Privacy Directive since the entry into application of the GDPR. Italy has imposed the three highest fines on telecoms operators, totalling €56.7m.
The benchmark also covers the total amount of fines imposed on telecoms operators in each country over the last three years, as well as providing details of the infringements and the resulting decisions.
For more information and access to the benchmark, please click on "Access the full content" - or on "Request Access", in case you are not subscribed to our European Digital Economy service.
Stay in touch
Subscribe to our newsletter for a free weekly summary of the latest regulatory news and analysis from the communications world.