AVMS Directive Transposition Progress Report September 2021 – Poland has also transposed the directive 20 September 21 Laura Sboarina
Cullen International has just published two new benchmarks tracking the progress in the transposition of the Audiovisual Media Services Directive across 14 European countries and the most interesting proposals under discussion.
Since the last report:
Poland adopted the Act on revision of Broadcasting Act and Act on Cinematography on 11 August 2021. This act implements the directive into national legislation and will enter into force on 1 November 2021 (except some provisions, which will come into force in 2022).
The Italian government provisionally approved the legislative decree implementing the directive. The decree was sent to parliament for consideration, so it could still be amended.
The Croatian government adopted a final draft law on 29 July 2021 and sent it to parliament. Adoption is expected in the autumn.
The Spanish government submitted a new draft to a second public consultation, which closed on 12 July 2021. The final adoption is expected to take place at the end of 2021 or early 2022.
Belgium, Denmark, Germany, Finland, the Netherlands, Sweden and the UK have also transposed the directive. The UK was bound to implement the directive since the transposition deadline fell before the end of the Brexit transition period (end of 2020).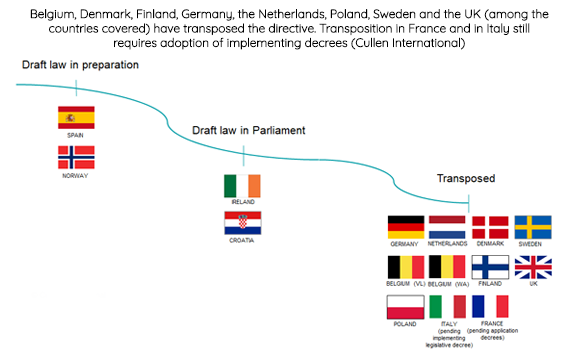 In France, the government ordinance transposing the directive (as authorised by a law adopted in November 2020 aiming to transpose various EU legislations) was published in its official journal on 23 December 2020. However, full transposition still requires the modification of existing application decrees. The one on on-demand audiovisual media services was adopted on 22 June 2021.
As for other countries:
In Ireland, a joint committee in the Irish parliament announced it was continuing its pre-legislative scrutiny of the proposal.
In Norway a public consultation on the draft law is expected in autumn 2021 and it parliament is expected to start examining it in spring 2022 at the earliest.
For more information and access to the full progress report and related benchmarks, please click on "Access the full content" - or on "Request Access", in case you are not subscribed to our European Media service.
Stay in touch
Subscribe to our newsletter for a free weekly summary of the latest regulatory news and analysis from the communications world.