AI regulation: analysis of the European Commission proposal for a legal framework on artificial intelligence 05 May 21 Elisar Bashir
The European Commission presented on 21 April 2021 its long-awaited proposal to regulate the use of artificial intelligence (AI) in Europe. The proposed regulation builds on the Commission white paper on AI from February 2020 and is accompanied by a new Coordinated plan which envisages joint actions for the Commission and the EU member states to boost the uptake of AI.
Cullen International provides an in-depth analysis of the proposed AI regulation, which would be directly applicable in EU countries once it enters into force.
The proposed framework would lay down harmonised rules for "the placing on the market, the putting into service and the use of" AI systems in the EU. It offers a risk-based approach with four levels of risk which serves as a reference point for the envisaged rules and obligations.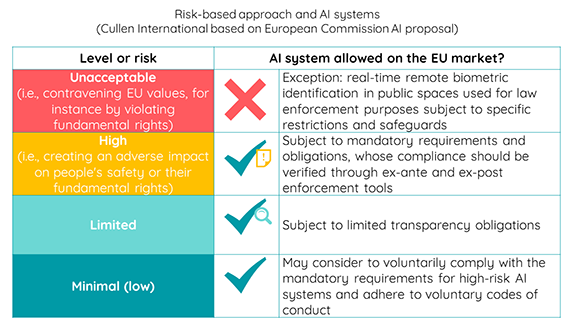 While certain AI practices would be prohibited, at the core of the proposed framework are high-risk AI systems which would be subject to specific mandatory requirements as well ex-ante conformity assessment.
The proposed regulation would establish governance systems at a national and an EU level (through a new European Artificial Intelligence Board), as well as rules on post market monitoring and penalties for non-compliance.
The analysis by Cullen International investigates the overall context of the proposed AI framework, the scope of obligations and requirements as well as the envisaged enforcement mechanisms.
For more information and access to the full analysis, please click on "Access the full content" - or on "Request Access", in case you are not subscribed to our European Digital Economy Service.
Stay in touch
Subscribe to our newsletter for a free weekly summary of the latest regulatory news and analysis from the communications world.