Evolving privacy frameworks in the Americas 17 February 21 Andre Moura Gomes
Several countries in the Americas are updating their privacy and/or data protection frameworks. Cullen International's updated benchmark provides details of privacy bills that have recently been introduced and that are being debated in Argentina, Canada, Chile and Colombia.
In Argentina, two bills from opposing parties were introduced at Congress. In Canada, the privacy framework could include exceptions to the obligation to obtain user consent for collecting and processing personal data.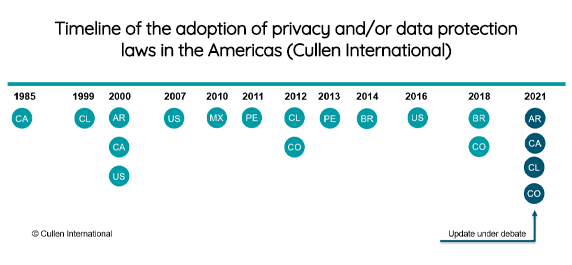 Breaches to privacy rules attract sanctions and other corrective measures in all countries in the Americas. Chile is the only studied country where enforcement of the data protection law is the responsibility of judicial authorities rather than of a specialist administrative agency.
To access the full benchmark, please click on "Access the full content" - or on "Request Access", in case you are not subscribed to our Americas Digital Economy service.
Stay in touch
Subscribe to our newsletter for a free weekly summary of the latest regulatory news and analysis from the communications world.