What plans on 5G in sub-Saharan Africa? 01 March 23 Elena Scaramuzzi
Especially when compared with other world regions, sub-Saharan Africa tends to be positioned at an initial phase of 5G development. However, according to new Global Trends research, some countries in the region have started acting on 5G.
Cullen International's new global trends research shows that some governments have already a strategy on 5G, and in some cases have also released (or planned the release of) international mobile telecommunications (IMT) spectrum to enable 5G network deployments. On the other hand, in other countries selected industry players have decided to test the technology, and even started small-scale commercial deployments.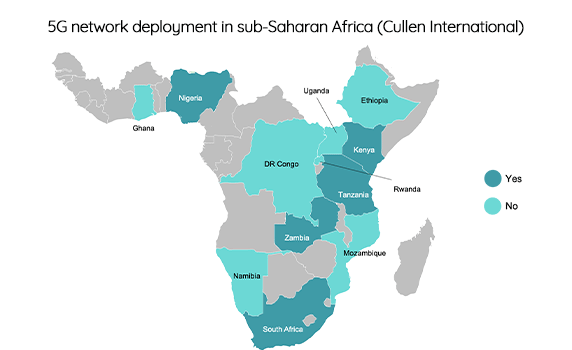 The new benchmark outlines 5G government policies, spectrum plans, and the status of deployments and commercial availability, across 12 countries: Democratic Republic of Congo (DRC), Ethiopia, Ghana, Kenya, Mozambique, Namibia, Nigeria, Rwanda, South Africa, Tanzania, Uganda, and Zambia.
For more information and to access the benchmark, please click on "Access the full content" - or on "Request Access", in case you are not subscribed to our Global Trends service.
Stay in touch
Subscribe to our newsletter for a free weekly summary of the latest regulatory news and analysis from the communications world.