Limited availability so far of IP interconnection for fixed voice services in MENA 10 November 22 Ali Hayajneh
Cullen International's new benchmark on "the status of IP interconnection for fixed voice services" covers 13 selected Middle Eastern and North African countries (MENA).
The benchmark shows whether IP interconnection is mandated on fixed operators for terminating fixed voice services, and the availability in practice of IP interconnection.
The benchmark also provides details on any plan(s) to migrate to all IP-based interconnection.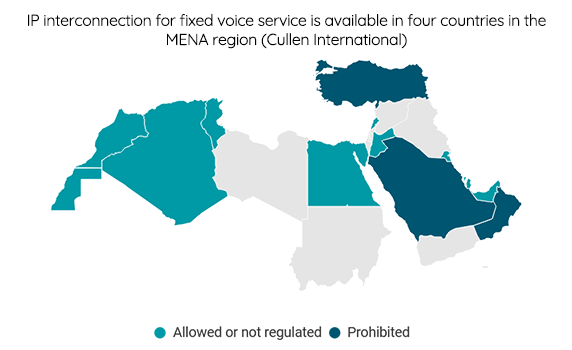 Main Findings
IP interconnection for fixed voice services is available in Oman, Saudi Arabia, Turkey and the United Arab Emirates (UAE).
In the region, only Turkey mandates (on the designated dominant operator) the offering of IP-based interconnection for fixed voice services.
In UAE, all interconnection between the fixed telecoms service providers (Etisalat and du) are based on IP, while the target in Turkey is to have all interconnection IP-based by 1 January 2024.
The telecoms operators in Oman (Omantel and Ooredoo) have a commercial IP interconnection in place, while STC in Saudi Arabia started offering commercial IP interconnection in January 2022.
For more information and to access the full report, please click on "Access the full content" - or on "Request Access", in case you are not subscribed to our MENA Telecoms service.
Stay in touch
Subscribe to our newsletter for a free weekly summary of the latest regulatory news and analysis from the communications world.