Latest research on international data transfers in the Americas 13 April 22 Andre Moura Gomes
Cullen International has published new research on the rules for data transfers applicable in Argentina, Brazil, Canada, Chile, Colombia, Mexico, Peru and the USA, including:
obligations to store data within the country; and
restrictions on the transfer of data to third countries, such as requiring a similar level of personal data protection.
The research also examines whether and how multilateral arrangements facilitate international data transfers, including those established by the Asia-Pacific Economic Cooperation (APEC), the United States-Mexico-Canada Agreement (USMCA), and the European Union.
In Argentina, Canada and Mexico, personal data can be transferred to foreign countries that offer a similar level of protection to personal data or that are party to specific international schemes.
Brazil, Colombia and Peru only accept a similar level of protection to authorise international data transfers. International data transfers are usually possible from the USA and Chile, since these countries do not impose specific restrictions.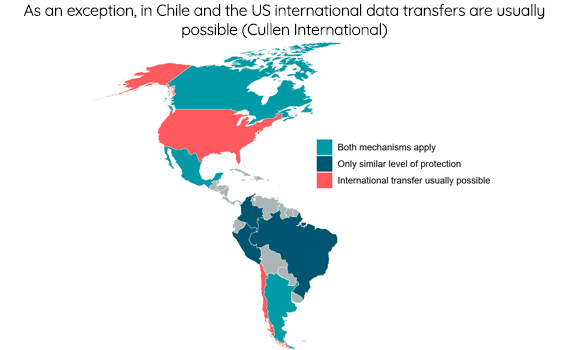 For more information or to access the full benchmark, please click on "Access the full content" - or on "Request Access", in case you are not subscribed to our Americas Digital Economy service.
Stay in touch
Subscribe to our newsletter for a free weekly summary of the latest regulatory news and analysis from the communications world.